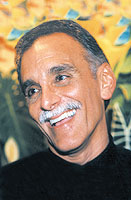 Internationally-renowned and winner of numerous awards, Key West artist Sal Salinero is considered an "island treasure." His energy is prodigious. He works diligently in his Boulder, Colorado or Key West studios. Born in 1941 in Key West, Florida, a fourth-generation "conch" (native Key Wester) who has lived there most of his life, his reputation as one of Key West's favorite artists is well deserved. His paintings of wildlife and tropical foliage reflect the understanding of one who has been surrounded by his subject matter.
Sal Salinero is also considered a master of still life and trompe l'oeil. His sensitivity and ability to capture the nuances of reflected light have earned him an enviable position among Florida's Art Community.
The inspiration for great art, it is said, comes from the heart. For Sal Salinero, the inspiration comes from the soul. In painting these magnificent rainforest landscapes, Salinero captures not only the physical beauty, but also the spiritual sense of perfection in nature.

About the Artist
His realistic painting style initiates the viewer into the mysteries of the rainforest - from the canopy to the ground - with an accessibility and directness that enables one to imagine that one is actually there. His paintings are devoid of any psychological complexity - they depict a world of beautiful birds, flowers and sun-drenched landscapes of the rainforest and tropical regions with which he is so familiar.
Mr. Salinero's fascination with the rainforest is not new. He initially developed this interest in 1964, while stationed in the Republic of Panama as an Army Green Beret. His numerous trips to the Darien Jungle for survival training exposed him to the richest sources of life on the planet - humid, dense and verdant tropical rainforests.
For many years he has explored the tropical rainforests around the world and photographed what is left. The images that he has obtained from these travels have been transferred into his body of work.
With his paintings Salinero leaves us with a sharp appreciation of the beauty of the rainforests, as well as indicating everyone's responsibility to help save them. He hopes that by painting these tropical paradises, a greater public awareness will result as well as a greater effort to stop their destruction.
Recognized as one of the most notable artists of our day to depict the beauty and diversity of the tropical rainforest, Sal Salinero's original oil paintings can be found in many private, public and corporate collections in the U.S. and abroad. These exquisite works are now available in masterfully reproduced exclusive limited editions that capture the detail and vibrancy of the original oil paintings.

Galleries
GINGERBREAD SQUARE GALLERY, Key West, Florida
TAMARACK GALLERY, Naples, Florida
ADAM WHITNEY GALLERY, Omaha, Nebraska
CALPAN TRADING COMPANY, Osaka, Japan
WARNPIKE & ASSOCIATES, Hawthorne, Victoria, Australia
NORTHRIDGE ART GALLERY, Ridgefield, Connecticut
MacLAREN-MARKOWITZ GALLERY, Boulder, Colorado
KI'I GALLERY, Maui, Hawaii
J. SOUTHARD & ASSOCIATES, New York, New York
KISABETH GALLERY, Dallas, Texas
NORTH SHORE GALLERY, Northbrook, Illinois
RIVERSIDE GALLERY, Wall, NJ
GALLERY M, Denver, CO
One Man Shows
GINGERBREAD SQUARE GALLERY, Key West, Florida 1974 through 2004
GALLERY ONE, Naples, Florida 1993
MacLAREN-MARKOWITZ GALLERY, Boulder, Colorado 1992
TOMLINSON SHOWROOM, High Point, North Carolina 1987
NAT'L CENTER FOR ATMOSPHERIC RESEARCH
- Mesa Laboratory Gallery, Boulder, Colorado 1988
ARTEXPO, New York, New York 1985
ARTEXPO, Dallas, Texas 1984
ZARBIA LIMITED GALLERY, Houston 1980
MARTELLO MUSEUM, Key West, Florida 1973 through 1975
KEY WEST ART CENTER, Key West, Florida 1966 through 1971


National & International Exhibitions
NEW YORK INTERNATIONAL ART EXHIBIT, New York 1970
NATIONAL MINIATURE ART EXHIBITION, Nutley, New Jersey 1973
BACHE & COMPANY EXHIBITION, San Juan, Puerto Rico 1973
SEARS ROEBUCK & CO. EXHIBIT, Key West, Florida 1971/72
UNITED STATES NAVY ART GUILD EXHIBIT, Key West, Florida 1968
PORTLAND ART FESTIVAL, Portland, Maine 1969
KEY WEST ART CENTER JURIED EXHIBITIONS, Key West, Florida 1970 through 1977
KEY PLAZA ART FESTIVAL, Key West, Florida 1974
MARTELLO MUSEUM JURIED EXHIBIT, Key West, Florida 1965 through 1982
MUSEUM OF SCIENCE ANNUAL INVITATION FINE ARTS EXHIBIT, Miami, Florida
1980 through 1982
ARTISTS SHOW OF COLORADO, Boulder, Colorado 1983
CAPITOL HILL EXHIBITION, Denver, Colorado 1984
UNIVERSITY OF MIAMI BEAUX ARTS FESTIVAL, Miami, Florida 1972
MIAMI BEACH ART FESTIVAL, Miami Beach, Florida 1984
COLORADO OPEN JURIED SHOW, "Colorado Contempo," Colo Lawyers for the Arts, Denver 1997
COLORADO ART OPEN, Foothills Art Center, Golden, Colorado 1997

Group Shows
ORMOND BEACH FINE ART MUSEUM, Ormond Beach, Florida 2000
MUSEUM OF SCIENCE ANNUAL INVITATIONAL, Miami, Florida 1980, 1981, 1982
HAWK'S CAY RESORT INVITATIONAL EXHIBIT, Duck Key, Florida 1988, 1989
RICK MOORE FINE ART, Naples, Florida 1991
JUNIOR SYMPHONY GUILD, Designer Showcase Gallery, Denver, Colorado 1991
NORTHRIDGE ART GALLERY, Ridgefield, Connecticut 1993
BOULDER MUSEUM OF CONTEMPORARY ART, Boulder, Colorado 1997


Featured In
ARTS DIGEST MAGAZINE – 1996-97
FOCUS MAGAZINE - 1996-97
BEST OF KEY WEST – 1995-96
THE VIRGINIA MAGAZINE - 1988
ART BUSINESS NEWS - 1985, 1992, 2003, 2004
ART WORLD NEWS – 1993-1994
DECOR MAGAZINE – 1984-85
TIME OUT MAGAZINE – 1995-96
BOULDER DAILY CAMERA – 1993
TROPIC KEYS MAGAZINE – 1995-96
EMPIRE MAGAZINE, DENVER POST – 1985
FLORIDA KEYS MAGAZINE - 1988, 1996-97
MIAMI HERALD – 1965 through 2004
KEY WEST CITIZEN – 1965 through 2004
HOUSTON POST – 1980
HOUSTON CHRONICLE - 1980
SOLARES HILL NEWSPAPER – 1981 through 1999
GULFSHORE LIFE MAGAZINE - 1988
MIAMI/SOUTH FLORIDA MAGAZINE – 1986
KEY WEST: THE LAST RESORT – 1978-79
KEY WEST THE NEWSPAPER – 1996 through 2000
KEY WEST ARTS REVUE – 1978, 1979, 1980
THE CULTURAL MAGAZINE of the FL KEYS – 1998 through 2004
ART & ANTIQUES MAGAZINE – 1995
ISLAND NEWS – 1996 through 2000
CELEBRATE NEWSPAPER – 1998 through 2004
L'ATTITUDES MAGAZINE-2000 through2004

Collections
THE STATE CAPITOL, Florida House of Appropriations, Tallahassee, FL
EAST MARTELLO MUSEUM, Key West
METROPOLITAN MORTGAGE COMPANY
The MUSEUM of ART & HISTORY, Key West
BURGER KING
COUNTY COURT HOTEL, Maidstone, England
HILTON HOTELS
KEY WEST STATE BANK
FLORIDA FIRST NATIONAL BANK
OCEAN REEF RESORT, Key Largo
FIRST STATE BANK, Key West
COCONUT MALLORY RESORT, Key West
SANDS HOTELS, Atlantic City & San Juan
HOME LIFE INSURANCE
COMPANY PIER HOUSE RESORT, Key West
LITTLE PALM ISLAND RESORT, Little Torch Key, FL
SHERATON HOTELS
KEY WEST INTERNATIONAL AIRPORT
DUPONT FAMILY COLLECTION
JÜNGBECKER FAMILY Collection, Aachen, Germany
NANCY FRIDAY
TENNESSEE WILLIAMS
JAY GARON, New York
PHILIP CAPUTO
DRS. IRA GOLDBERG & INA CHOLST, NY
" BOOG" POWELL
DAVID KAUFELT
FRANCISCO & MAUREEN MENDOZA, Caracas
WILLIAM & ESTA VOGAN, Port Huron, MI
MICHAEL CASHMAN, MEP (Member European Parliament), London & Brussels